Brookfield at a Glance
01

Our Business

We are a leading global alternative asset manager with over $540 billion of assets under management including $290 billion in fee-bearing capital. We raise private and public capital from the world's largest institutional investors, sovereign wealth funds and individuals, with a focus on generating attractive investment returns that will allow our investors and their stakeholders to meet their goals and protect their financial future.

Investment focus – Real estate, infrastructure, renewable power, private equity and credit

Diverse product offering – Core, value-add, opportunistic and credit strategies in both closed-end and perpetual vehicles

Focused investment strategies – We invest where we have a competitive advantage, such as our strong capabilities as an owner-operator, our large scale capital and our global reach

Disciplined financing approach – Debt is carefully employed to enhance returns while preserving capital throughout business cycles

In addition to our asset management activities outlined above, we invest significant capital from our balance sheet in our managed entities alongside our investors as well as in other direct investments. This is intended to generate attractive financial returns and cash flows, support the growth of our asset management activities and create an important alignment of interests with our investors. We refer to this as our Invested Capital and it totals approximately $47 billion.
Asset Management
We provide a wide range of investment products, primarily focused on real estate, renewable power, infrastructure, private equity and credit
Real Estate
Office, retail, industrial, multifamily, hospitality and other properties
Infrastructure
Utilities, transport, energy, data infrastructure and sustainable resource assets
Renewable Power
Hydroelectric, wind, solar and other power generating facilities
Private Equity
Business services, infrastructure services and industrials
Credit
High yield bonds, corporate debt, distressed debt and convertible securities
02

Our Global Presence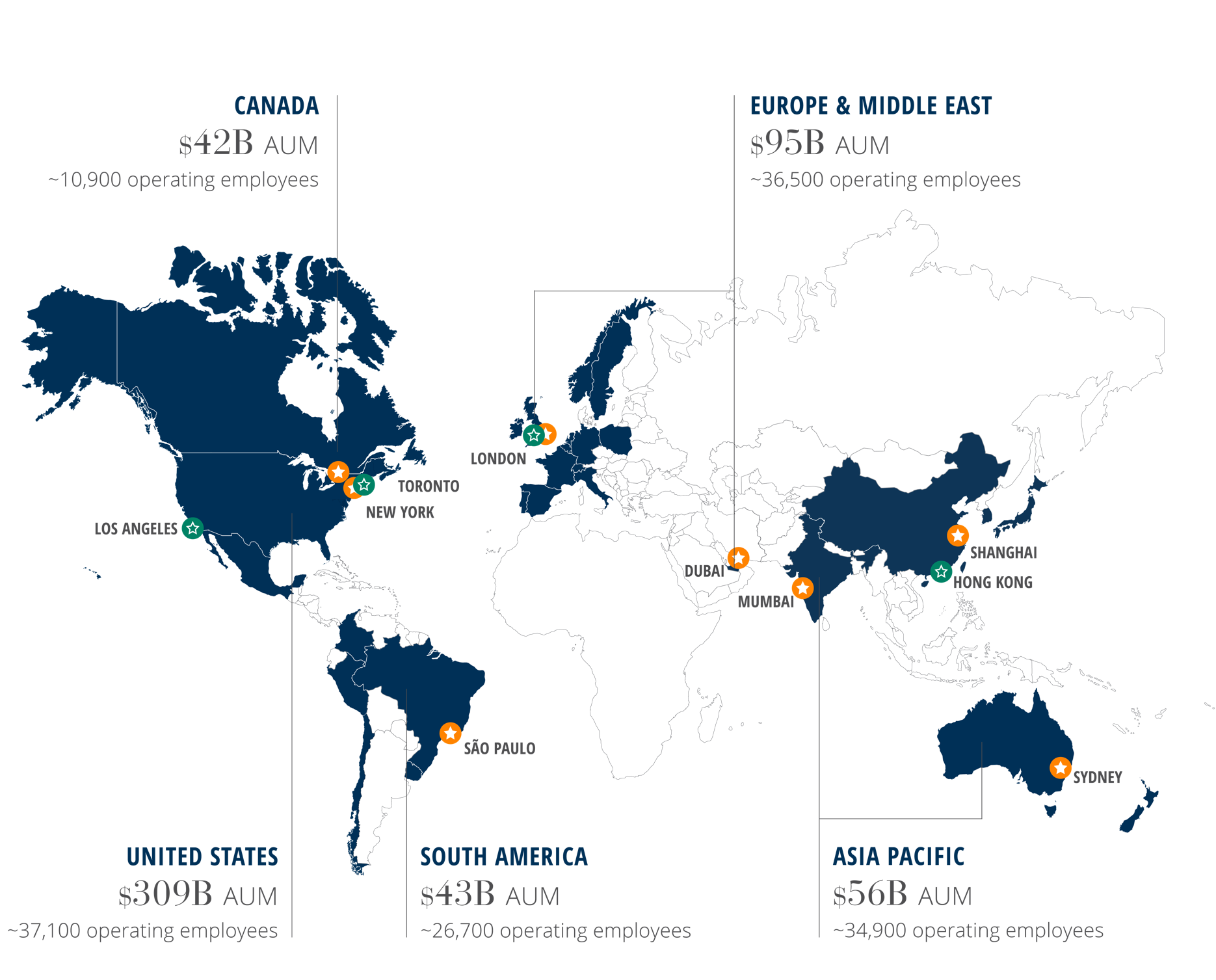 Note: Excludes Residential Development and Corporate Activities which are distinct business segments for IFRS reporting purposes.
"Brookfield," the "company," "we," "us" or "our" refers to Brookfield Asset Management Inc. and its consolidated subsidiaries. The "Corporation" refers to our asset management business which is comprised of our asset management and corporate business segments. Our "invested capital" or "listed partnerships" includes our subsidiaries, Brookfield Property Partners L.P., Brookfield Renewable Partners L.P., Brookfield Infrastructure Partners L.P. and Brookfield Business Partners L.P., which are separate public issuers included within our Real Estate, Renewable Power, Infrastructure and Private Equity segments, respectively. We use "private funds" to refer to our real estate funds, infrastructure funds and private equity funds. Please refer to the Glossary of Terms beginning on page 115 of our 2019 Annual Report, available for download above or here, which defines our key performance measures that we use to measure our business.
03

Quick Facts
$540B+
Assets Under Management
$290B
Fee Bearing Capital
~1,000
Investment Professionals
~150,000
Operating Employees
Core Investment Principles
Our approach to investing is disciplined and straightforward. With a focus on value creation and capital preservation, we invest opportunistically in high quality real assets within our areas of expertise, manage them proactively and finance them conservatively with a goal of generating stable, predictable and growing cash flows for investors and shareholders. Our culture is anchored by a set of core investment principles that guide our decisions and how we measure success.
Business Philosophy
Build our business and all our relationships based on integrity
Attract and retain high-caliber individuals who will grow with us over the long term
Ensure our people think and act like owners in all their decisions
Treat our investor and shareholder money like it's our own
Investment Guidelines
Invest where we possess competitive advantages
Acquire assets on a value basis with a goal of maximizing return on capital
Build sustainable cash flows to provide certainty, reduce risk and lower our cost of capital
Recognize that superior returns often require a contrarian approach
Measurement of our Corporate Success
Measure success based on total return on capital over the long term
Encourage calculated risks, but compare returns with risk
Sacrifice short-term profit, if necessary, to achieve long-term capital appreciation
Seek profitability rather than growth, as size does not necessarily add value
Value Creation
We create shareholder value by increasing the earnings of our asset management activities and increasing the value of our Invested Capital, as follows:
Asset Management
1. Increasing fee-bearing capital, which increases our fee-related earnings. We track the value created by applying a multiple to our current fee-related earnings.
2. Achieving attractive investment returns, which allows us to earn performance income (carried interest). We measure the value created by applying a multiple to our target carried interest, net of costs1.
Invested Capital
3. Increasing the cash income generated by the investments as well as capital appreciation, through operational improvements and disciplined recycling of the underlying assets. We measure the value created using a combination of market values and fair values as determined under IFRS.

1. See definition in the Notice to Readers on page 19, of our 2019 Annual Report, available for download above or here.
2. Quoted based on December 31, 2019 public pricing.
3. Total IFRS invested capital excludes $4.9 billion of common equity in our Asset Management segment.
4. For business planning purposes, we consider the value of invested capital to be the quoted value of listed investments and IFRS value of unlisted investments, subject to two adjustments. First, we reflect BPY at IFRS values as we believe that this best reflects the fair value of the underlying properties. Second, we reflect Brookfield Residential at its privatization value.
5. Includes $2.2 billion of corporate cash and financial assets.
6. For the purposes of value creation, "current" carried interest, net represents target carried interest, net. Target carried interest, net, is defined in the Notice to Readers on page 19 of our 2019 Annual Report, available for download above or here.