Brookfield at a Glance
We are one of the largest and fastest growing alternative asset managers in the world. We manage nearly $800 billion of assets on behalf of more than 2,000 global institutional clients. We have over 2,500 investment and asset management professionals investing in 30 countries across five continents supported by approximately 200,000 operating employees.
At the end of 2022, we completed the distribution and listing of a 25% interest in Brookfield Corporation's asset management business, through Brookfield Asset Management Ltd., giving investors direct access to the asset management business on a pure-play basis for the first time. Our intention was to create a security that is simpler, more easily understood and better appreciated in the market. With substantially all our distributable earnings derived from stable and predictable fee-related earnings, strong five-year growth targets and an asset light balance sheet with no principal investments and no debt, the "new'" Brookfield Asset Management operates with industry leading metrics. At the same time, we thoughtfully structured the distribution in a way that will ensure our asset management business will retain the significant benefits of the broader Brookfield ecosystem.
While the stock is new in form, our market leadership, commitment to clients and investment approach remain unchanged. We draw on our 100+ year heritage as an owner and operator to invest for value and seek to generate strong returns for our clients across economic cycles. 
We invest in high-quality, essential assets and businesses that form the backbone of the global economy. Specifically, we focus on renewable power & transition, infrastructure, private equity, real estate, and credit. We believe that we are well-positioned to capture the significant opportunities ahead, many of which will be driven by large secular trends around decarbonization, deglobalization and digitalization.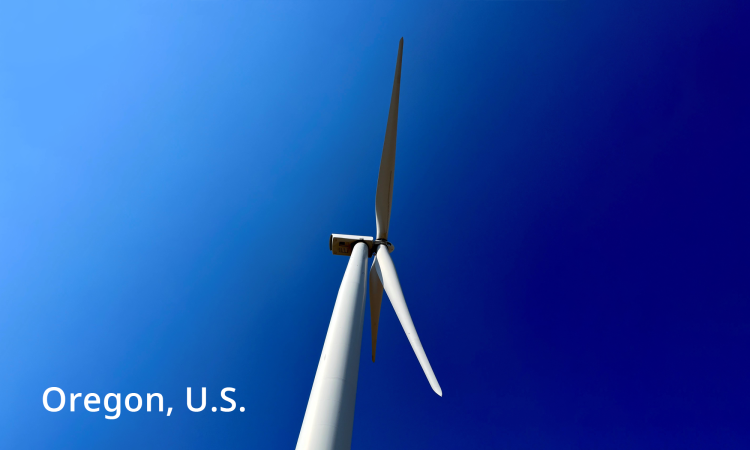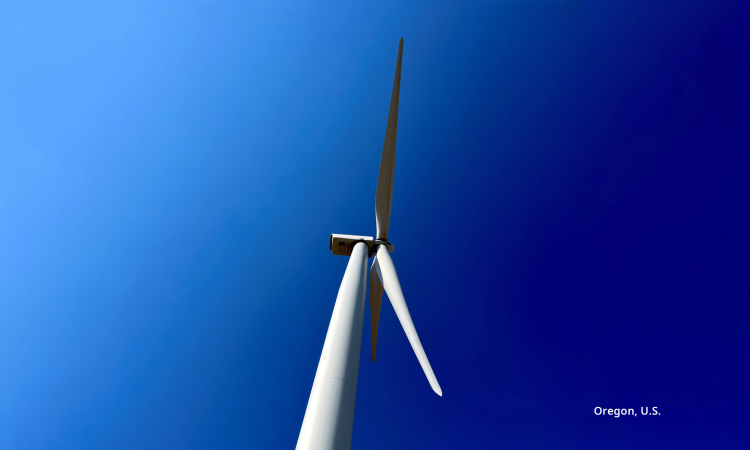 ---
We invest in high-quality, essential assets and businesses that form the backbone of the global economy.
HOW WE INVEST
The Brookfield Advantage
We invest where we can bring our competitive advantages to bear, leveraging our deep operational expertise, global reach and access to large-scale, flexible capital.
Long-Life, High-Quality Assets and Businesses
Leveraging our operating experience, we invest in key sectors across renewable power & transition, infrastructure, private equity, real estate, and credit.
Diverse Product Offering
We offer core, core-plus, value-add, opportunistic/growth equity, secondaries, subordinated debt and credit strategies through closed-end and perpetual vehicles in both the public and private markets.
Disciplined Financing Approach
We take a conservative approach to the use of leverage, ensuring that we can preserve capital across all business cycles.
Sustainability
We are committed to ensuring that the assets and businesses we invest in are set up for long-term success, and we seek to have a positive impact on the environment and the communities in which we operate.
GLOBAL REACH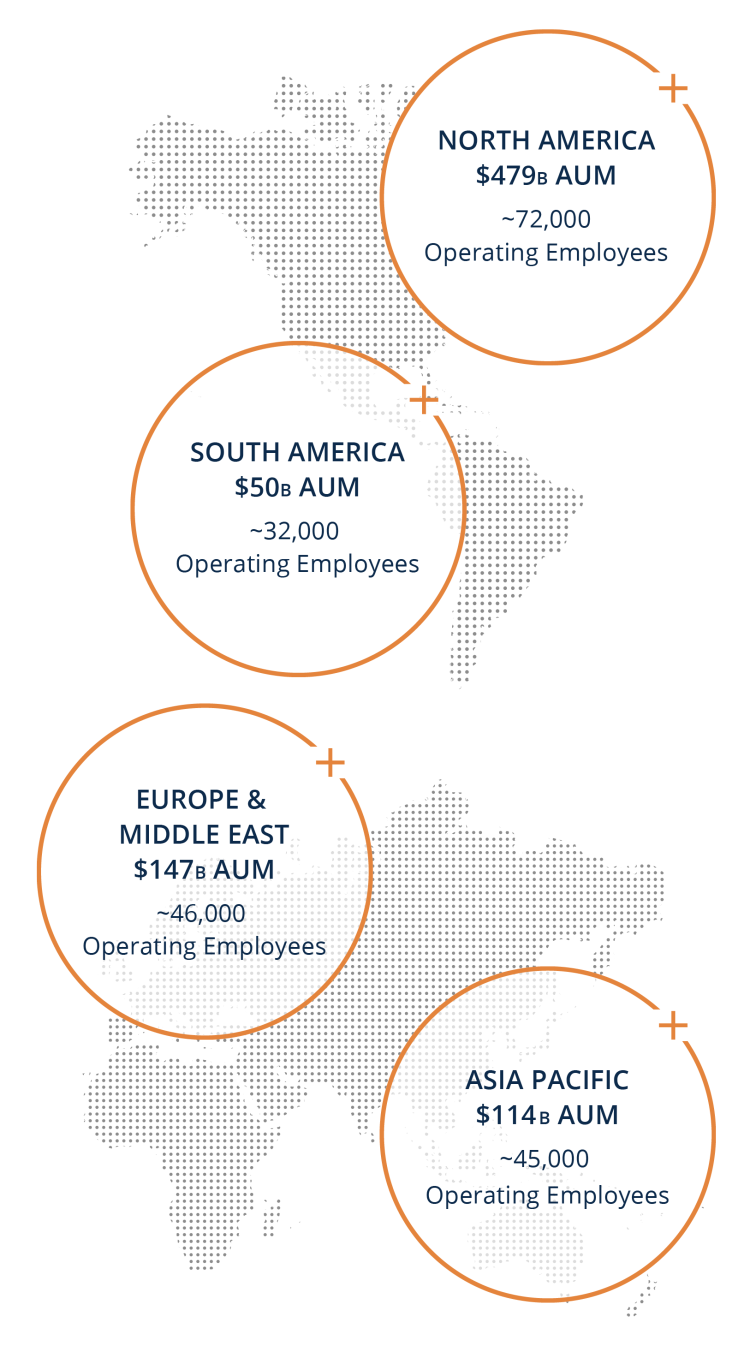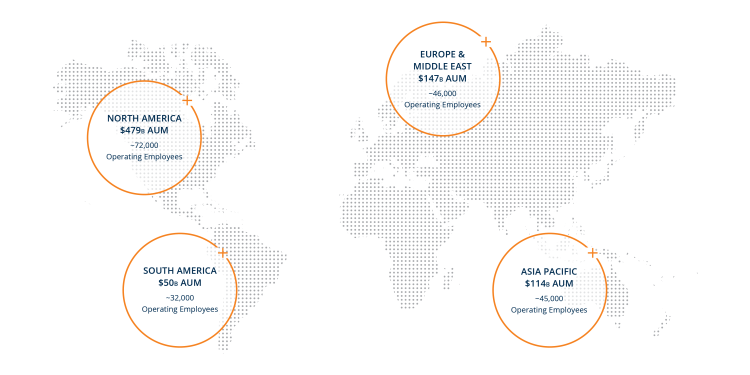 ~$800B
ASSETS UNDER MANAGEMENT
$418B
FEE-BEARING CAPITAL
2,500+
INVESTMENT & ASSET MANAGEMENT PROFESSIONALS
~200,000
OPERATING EMPLOYEES
The "Manager," the "company," "we," "us" or "our" refers to Brookfield Asset Management Ltd. together with our asset management business and Oaktree (each as defined below). The "Corporation" refers to Brookfield Corporation (formerly known as Brookfield Asset Management Inc.) and its subsidiaries (including the perpetual affiliates (as defined below)). Additional discussion of the Corporation's and the perpetual affiliates' businesses and results can be found in their public filings.
Investment Overview
Our disciplined, well-established approach to investing reflects our 100+ year history as an owner and operator. We focus on value creation and capital preservation, investing in high-quality assets and businesses within our areas of expertise. We then manage these assets and businesses proactively and finance them conservatively—with the goal of generating stable, inflation-linked, predictable and growing cash flows.
Brookfield's investment activities are anchored by a set of core tenets that guide our decision-making and determine how we measure success:
OUR BUSINESS PRINCIPLES
Operate our business and conduct our relationships with integrity

Attract and retain high-caliber individuals who will grow with us over the long term

Ensure that our people think and act like owners in all their decisions

Treat our shareholders' capital like it's our own

Embed strong ESG practices throughout our operations to help ensure that our business model is sustainable
OUR INVESTMENT APPROACH
Acquire high-quality assets and businesses
Invest on a value basis, with the goal of growing cash flows and compounding capital
Enhance the value of investments through our operating expertise
Build sustainable cash flows to provide certainty, reduce risk and lower our cost of capital
Allocate the free cash flows we receive to enhance value for our shareholders
OUR PATHS TO SUCCESS
Evaluate total return on capital over the long term
Encourage calculated risks, measuring them against potential returns
Sacrifice short-term profit, if necessary, to achieve long-term capital appreciation
Seek profitability rather than growth—size does not necessarily add value